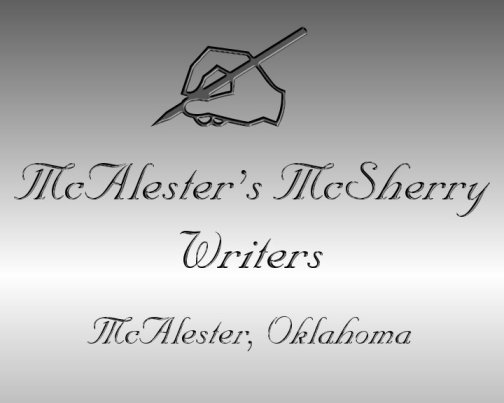 Club News ~ Tips from the Group ~ Market Watch
Contest News ~ Recommended Sites
---

By Jenifer Nipps

Sharon Ervin
AmErica House presented a contract to publish Bodacious.
Sold inspirational article, "Suzie's Ministry," to Whispers from Heaven magazine.
Mary Ann Kerl
A creative writing class taught by Mary Ann will be held at the McAlester campus of Eastern Oklahoma State University on Wednesdays. Contact Mary Ann or the campus for more information.
Priscilla Maine

and The Old Woman will be published in Danish editions.

Jenifer Nipps
---
This issue's tip is from: Jenifer Nipps

(From http://www.users.cloud9.net/~kvivian/html/writing_for_webs.html#Writing


Writing for the Web

Remember this: in writing for webs, the single most important difference with writing for print publication is the inherent ability of web communications to be interactive. Hyperlinking makes it easy for any reader to browse the information in the sequence and way most comfortable for their own style and preferences. Use a lot of hyperlinks.

The beauty of webs, whether internal (Intranet) or external (Internet), is that the user has the ultimate control over what content they see. Users no longer want content pushed at them and have become ``pullers" of information...they graze, pulling out what's meaningful or useful to them and ignore the rest. An important goal is to make the information you offer easy to "pull" from.

Writing
Not all readers are interested in starting at the beginning and reading to the end. Provide an index or lots of hyperlinks in your document so readers can jump around in the way they prefer.
Rule of Thumb: If something is written out or described elsewhere (in your web site or any other electronic location), don't repeat. Make a link to where it's already written.
Realize that the size of the type on a reader's screen is controlled by things you have absolutely no control over, (1) their own computer settings and (2) the version or brand of browser software they use. You cannot assume that what you see on your screen is what they will see on their screen.
Use short sentences and paragraphs.
Put your most important point or key concepts in the first 50 words. Many indexing spiders and search engines will grab the first sentence or two to describe your document.
Remember that the Internet is not just local. You have as much chance that someone from Australia or Japan or Finland will read your document as someone from your home town in America.
Avoid long screens of scrolling text. Use short paragraphs and add boldface or italics discretely to aid the eye.
Be sure to provide your name and/or E-mail address on the document so readers will be able to contact you easily.If you will permit your document to be copied or reproduced, print your attribution statement exactly as you would like it to appear.
When writing for a corporate Intranet or in-house network, be sure to use any author's guidelines that may have been developed by your Communications group. These will alert you to steps in the approval/review process and typically provide guidance for creating an effective web document.


Appearance
If you want to use backgrounds, be sure the texture or pattern is subtle so it doesn't compete visually with your words. Solid, pale colors are best, with black or very dark type. If you use a vivid color background (a la Wired Magazine), then your type font must be big and bold and there should be increased space between each line.
Use small, multicolor graphics to add visual interest, but don't overdo. And remember that big splashy graphics take a long time to load, which can drive your readers away.
Use white space and font changes for visual interest instead of graphics, where possible. Columns (including empty ones to create white space in a page format) can be made using the "table" function and the "block quote" function of the HTML language.
Make sure any graphics you use are your own original work or they are "free" (not copyright protected). Many graphic sites on the Internet offer free graphic elements to download, but request a copyright disclaimer or hyperlink from your web site to theirs. (See the Transparent/Interlaced GIF Resource page or Clip Art and Icons for some good sources.)


Copyright 1996 by Kaye Vivian.(kvivian@cloud9.net) All rights reserved. Permission to reprint is granted so long as you include this copyright statement and the article is not changed.

---
(contributed by Jenifer Nipps)
Alliance Theater Group

(From www.writersdigest.com)

"Stories that inspire the soul"

ALLIANCE THEATRE COMPANY

1280 Peachtree St. NE
Atlanta, GA 30309
(404)733-4650
Fax: (404)733-4625
E-mail: ATCLiterary@woodruffcenter.org
www.alliancetheatre.org

Professional Atlanta-based theatre company

Terms: Publishes/produces 11 plays/year.

Submissions: Submit query with synopsis or submit through agent. Enclose SASE. Responds to queries in 9 months. See web site for further guidelines.

Needs: Types of plays published/produced: Full-length scripts and scripts for young audiences (max. length 60 minutes).

Audience: Professional production for local audience.

Key element: "The Alliance is committed to producing works that speak especially to a culturally diverse community; chief among these are plays with compelling stories or engaging characters told in adventurous or stylish ways. Please submit via mail, e-mail or fax."
---
Contest News (contributed by Jenifer Nipps)
(Courtesy of www.freelancewriting.com)
DEADLINE: SEPTEMBER 1, 2001
BOSTON REVIEW´S NINTH ANNUAL SHORT STORY CONTEST
The winning author will receive $1,000 and have his or her work published in the December/January 2001-02 issue of Boston Review.
Stories should not exceed four thousand words and must be previously unpublished. The author's name, address, and phone number should be on the first page of each entry; do not send a cover letter. A $15 processing fee, payable to Boston Review in the form of a check or money order, must accompany all entries. Entrants will receive a one-year print subscription to the Review beginning with the December/January 2000-02 issue.
Details: http://bostonreview.mit.edu/contests.html

DEADLINE: AUGUST 31, 2001
EMILY DICKINSON AWARD IN POETRY
$1000 and publication for an unpublished poem in any form or style, and on any subject.
All finalists and semi-finalists will be published in an anthology of poems by Universities West Press.
Submit up to three poems, total entry not to exceed six pages, a short biographical statement, and a $10 reading fee. Simultaneous submissions are acceptable.
Details: www.popularpicks.com/Dickinson.htm
---

(contributed by group members)

Oklahoma Writers Federation: http://www.owfi.com

McAlester's McSherry Writers: http://mcwriters0.tripod.com

Writers Digest Online: http://www.writersdigest.com

Dream Weavers (a discussion board for writers):
http://www.delphi.com/dream_weavers/start
(Registration is required to participate, but it is free.)
---
Questions or comments? E-mail them to jen.nipps@klynk.com